Hogwarts is Here
User Guide
Courses & Library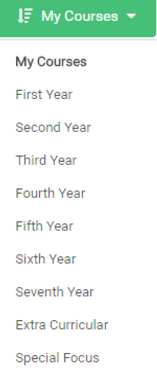 The content of the courses is the same as it was on the previous sites (with the exception of the occasional curriculum change in certain subjects). However, the main difference with courses is that the whole system has been opened up to all years. What this means is that you can take any class on offer, regardless of what year you are in or the "year" that the course is listed as. Of course, it is advisable to still take the classes in order of their years (i.e. don't decide to start a core class from Y4 and then work your way down), otherwise you'll likely find yourself extremely confused. However, what it does mean is that if you particularly like a class, you can follow it all the way up to Y4 without starting on any others, if you like. It also enables first years to take any of the elective classes, which they would usually have had to wait for.
Navigating your way around the courses page is relatively straightforward, and navigating the courses themselves is similar to how it was on the old site. Once on the main courses page, clicking the house-coloured button labelled "My Courses" will give you a drop down list of ways to filter the courses in order to find the ones that you need. The "Year" options are pretty straightforward and "Extra Curricular" gives you a list of electives.
---

Another classic feature from the old site is the Library, a place where students can both study their textbooks and read works of fan fiction as well as write their own books. A free space for the creative minds among us and those who simply want to relax and have a read!
Currently, the Hogwarts Library has all the old features that came with the previous site up and running, which includes a search bar, shelves of most popular books, most recent books and textbooks. A bookshelf of your own where you can keep the volumes you are reading, and a space for the novels you're writing and the option to write a book. Let's go through the list of current areas in our shiny and new HiH library!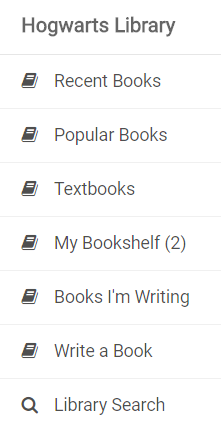 Recent Books
Here you can find a list of the many pages of books in the HiH library that prioritises the most recently published books so far, going from most recent to least recent. So, you want to check out some of the latest new volumes to read, simply head to this section and you'll find them.
Popular Books
This section is very much the same as the Recent Books area in layout, however, it displays books from most popular to least popular according to the number of reads a volume has.Yes, if your book makes it to the first page of this section, you know you've done well.
Textbooks
This area is where you can access all the required textbooks for the Hogwarts syllabus, ranging from a huge variety of subjects such as Transfiguration, Charms and Care of Magical Creatures. This is an especially important area for students as it is a place to both learn and explore. And, whether you do or don't like reading, you'll find yourself in this section sooner or later!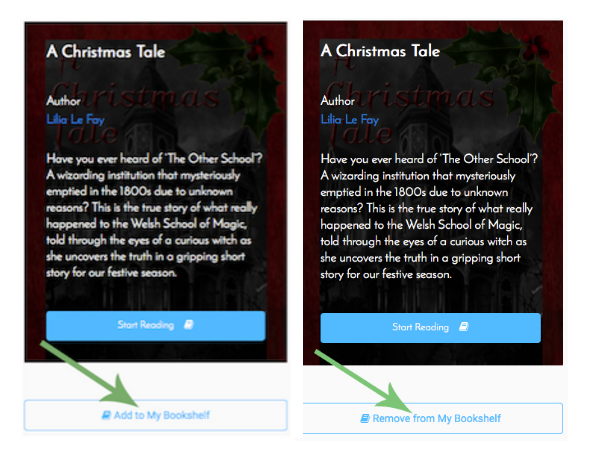 Your Bookshelf is where you can keep both books you have written and volumes you are currently reading so that you can always get back to them whatever they may be. The number in brackets after the title of the tab on the library navigation bar indicates the number of books on your bookshelf, and you can remove and add volumes to your bookshelf easily. To add a volume to your bookshelf, click on the button to the left of the page when reading a chapter, found underneath the bar describing the book's blurb and cover. To remove it, simply click the same area once it is on your bookshelf.
Books I'm Writing
Here you can access all of the books you are writing/have written, as a shortcut to find and edit your own works. It's also a handy way of advertising your works, as, by copying the url, it makes a quick link for other students to view your books when posted on the main feed or elsewhere.
Write A Book
This feature is a simply click-once link that takes you to the start of the process in which you write and publish a book in the library. Via a step-by-step process, you can create a volume and then add more chapters to it as you go, and is the first step in writing a work of fiction on HiH.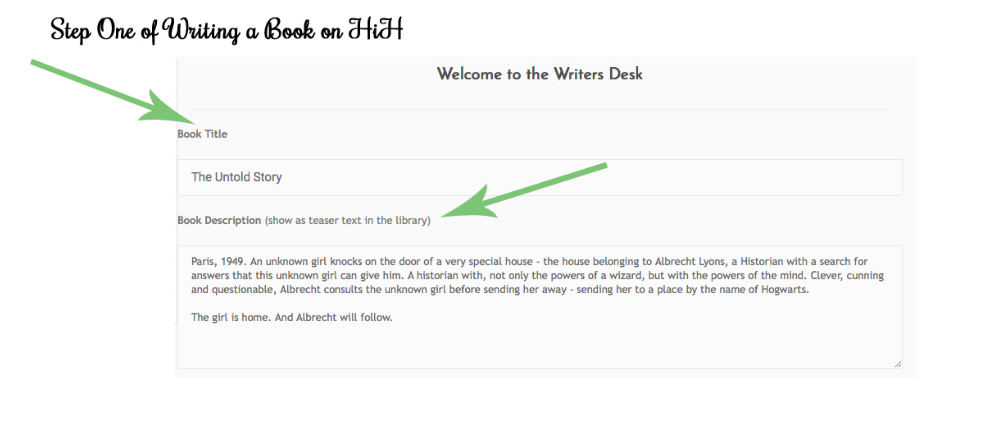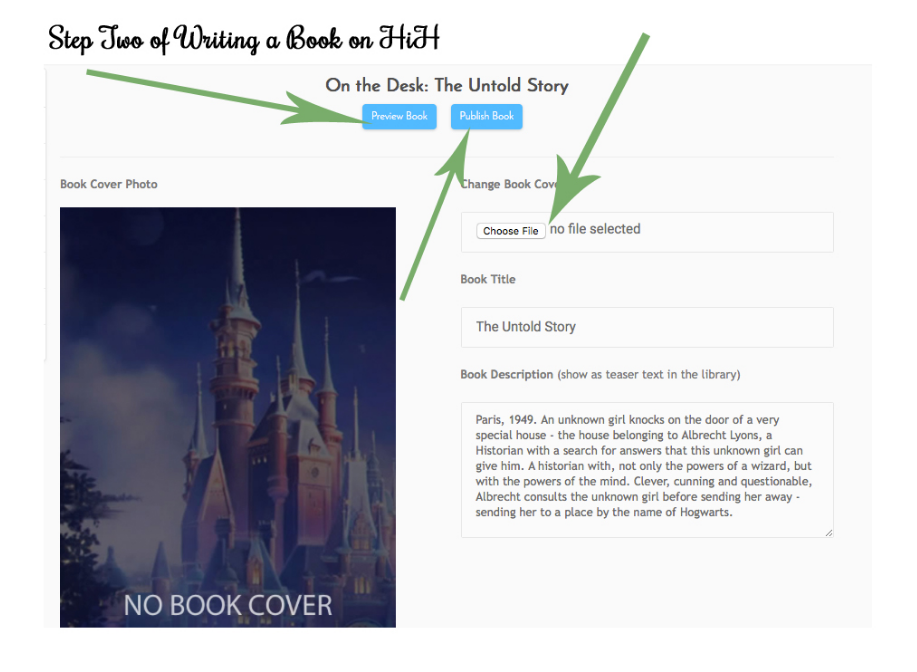 Last of all, we have the simple Library search bar, which does exactly as you can guess - acts as a universal search of the HiH library. Using it, you can find authors and books with a simple flick of your wand.