In books, there is a whole new world you are free to explore, but you only have to stay in one place. That's a wonderful type of magic.
Joined February 2020
Member of Hufflepuff
802 House Points
1st Year
New Zealand
Backstory
I am a Keeper. A Keeper is someone who is dedicated to restoring Hogwarts Is Here to what it was: a safe, fun, friendly place for Potterheads to interact. A Keeper also works to keep the spark of the Wizarding World alive.
Full Name: Elizabeth Leta Scamander (prefers to be called Lizzie though)
Age: Between 10 and 20
Personality: Though Lizzie can be slightly reserved at times, she is generally a positive and friendly person. She is permanently inclined to having just as much animal company as with people, however, thanks to her Scamander side.
Appearance: Long dark brown hair, brown eyes.
Backstory: Lizzie is related to the famous magizoologist Newt Scamander himself! Nevertheless, the members of the Scamander line still possess similar characteristics as him, primarily his love of both mundane and magical creatures. Lizzie's parents, Esther Scamander and Sebastian Bellamy, first met each other when Esther took a trip to New Zealand, intending to study the native magical creatures of the two islands. When she met Sebastian, however, her plans changed dramatically, and they ended up marrying and having three daughters: Theodora (Dora), Elizabeth (Lizzie), and Matilda. The three girls, though all with the general traits of a typical Scamander, had unique personalities and characteristically defined attributes.
The Scamander Home
When Lizzie turned eleven, Sebastian and Esther decided not to homeschool her like they had Dora. After all, the Scamander was a line with their homeland traditionally as England. This presented a problem with their three daughters, however, as the Scamander sisters were firmly inclined towards not moving. How could they leave their New Zealand home, their cosy house snuggled among native bush? But, after many arguments, many smashed antiques, and generally just a lot of drama, the Scamander sisters gave in, and the family moved to England.
It wasn't as bad as Dora, Lizzie, and Matilda had imagined. They had a nice, old-fashioned English home, and they got to experience the excitement of visiting Diagonalley and even just the interesting English environment around them. And soon they didn't just accept it. They loved it. There was nothing wrong with England.
Magical: Hogwarts proved to be an amazing place to Lizzie. The castle itself was a picture of magnificence with a medieval air to it which delighted her. She also took her magical necessities and managed to perform the patronus charm.
Wand
Pear wood, dragon heartstring, twelve inches, slightly bendy.
When Mr Olivander placed the wand of smooth pear wood, light brown in colour, laced at the base with pale entwinings, into Lizzie's hands, she knew that the tingling warmth that immediately flooded through her when her fingers came in contact with it meant something. She had found her wand, and she had not even looked for it. The wand had found her. After all, the wand chooses the wizard, or in this case, witch.
Patronus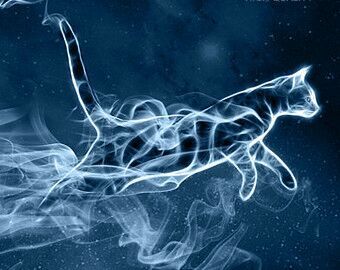 Cat
Lizzie only ever managed to cast the difficult patronus charm once, but though it took effort, it was definitely worth it. The concept of having an animal representation of you, produced magically according to what you were like, amazed and delighted her.
Pets: Lizzie grew up in an animal filled home, a range of both non-magical and magical creatures. She never really like to think of her animals as 'pets' though. They were her friends, her companions, a part of her family. Her personal animal companions, as she likes to call them, are:
Cornix

Cornix was Lizzie's first pet - a handsome black tomcat who was initally a sickly kitten abandoned on the streets. Lizzie rescued him and helped him regain his health, and now he is one of her affectionate animal companions. His personality is unpredictable, full of characteristic moods and preferences - Cornix has a many different traits, that's for sure! Generally, though, he is friendly, bold, and a little lazy at times.
Friends: Here on HiH Lizzie has made a few friends that she would like to mention!
Noelle
Noelle has always been a friend to the Scamander Sisters, and I'm so glad I know her! Thank you, Noelle, for being such a faithful HiH friend for so long!
Merlin D. Trelawney
Merlin is a great person to debate with and very supportive of the true subject of HiH - Harry Potter!
Kate
An excellent role-player and wonderful friend!