What Does it Take to Be an HiH Professor?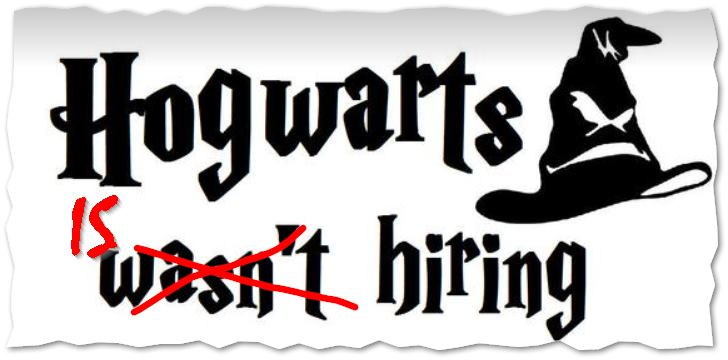 Have you ever thought about teaching at Hogwarts is Here, but didn't know if it would be the job for you? Fear not! We have all your questions answered and your curiosities sated, including answers to the most common questions and insight from active
---
---
What Does it Take to Be an HiH Professor?
Have you ever thought about teaching at Hogwarts is Here, but didn't know if it would be the job for you? Fear not! We have all your questions answered and your curiosities sated, including answers to the most common questions and insight from active professors.
FAQ
Below are some of the common questions we get asked about being a professor on HiH. Have a question that isn't on this list? Send an owl over to Headmistress Oshiro!


How much time am I expected to commit to being a professor?

Time commitment may vary week to week, but in general, expect to spend at least a few hours every week on professor-related duties.

Do I need writing experience?

Prior writing experience is not required to be a professor, but we do look for applicants with strong creative writing abilities.

Do I need Professor's Assistant (PA) or Head Student (HS) experience?

Being a PA or HS is not a prerequisite to becoming a professor!

Do I need experience in the subject I am applying to teach?

Experience in the course you are applying to teach is not required but is nice to have.

I'm a non-native English speaker, can I still apply?

Absolutely! If you have a strong grasp of the English language, you are welcome to apply. We have a number of professors on our staff for whom English is not their first language.

How far do I need to be in the course I am applying for?

While there is no requirement for how far along in the course you are, we encourage having at least completed the first published year of the course you are applying for so that you are familiar with the basics and style of the course.

What are the expectations and responsibilities outside of writing lessons?

Outside of lesson writing, professors are expected to be involved in various other activities around the site, including:

Grading student assignments

Managing a team of Professor's Assistants

Responding to student owls and wall posts

Addressing student grade appeals

Reviewing other course lessons

Participating in staff meetings, discussions, and votes

There are also opportunities to get involved that are encouraged but not required, including:

Joining staff committees for various areas

Running site-wide events and activities

Engaging with students in groups on site

What does the lesson writing process look like?

All lessons are written in Google Docs in a shared Google Drive that are accessible by all professor staff.

Lessons are all 1,000 to 4,000 words long and are expected to include images and some level of roleplay introduction and conclusion in addition to a mix of canonical, real, and invented information. Lessons should also have a mix of quiz, test, and essay style assignments.

The lesson writing timeline is flexible based on the professor's preferences and extenuating circumstances, but lessons are generally written on a three to five week time frame.

Once both a lesson and its associated assignments are written, it is reviewed by two other professors for spelling, grammar, flow, and content. Content review includes confirming that information aligns with both Harry Potter and HiH canon, making sure concepts are of the appropriate difficulty level for the course and are understandable, and assessing whether invented topics are reasonable.

How much am I working by myself versus in a team?

The responsibilities of a professor involve a mix of individual and small team work. Each professor is responsible for creating and writing the content for their course, but collaboration with other professors to bounce ideas and flesh out topics is encouraged.

In addition to content creation, professors work as a group to come up with new ideas for the site and address ongoing issues. They also often work in pairs or small groups to run activities and perform various administrative tasks.

Professors are also expected to take on a leadership role within their PA team, ensuring that PAs are active and grading according to class standards.

How do professors communicate with each other?

The professor team has a Facebook group and a small number of Facebook chats that are the primary forms of communication. Because of this, all new professors are required to create a Facebook account for their professor persona. There are also bimonthly professor meetings that take place over Zoom or Google Meets.

What does the professor onboarding process look like?

When hired, a new professor will be set up with two current professors, who will act as their guides as they learn their way around. They will help the new hire get acquainted with (many!) professor resources and procedures and be readily available for any question the new professor has.

There is also a Guide to Professorship that will walk the new professor through many of the common duties and activities associated with being a professor.

Shortly after being hired, the new professor will be introduced to their PA team via Facebook group chat.

Can I still complete course work as a professor?

Absolutely! Many professors also maintain their student person and complete classes on site.
Testimonials
We asked many of our professors about their experience teaching on HiH and how it has affected them both on and off-site. Below are merely some of their answers!
What is your favorite part of being a professor overall?

My favorite part of being a professor overall is seeing the creativity of our students. There are just so many creative ways for users to tackle assignments - and I love when I get that feeling when I open an essay and see an answer that I have never seen before or a piece of breath-taking art. ~ Professor Draekon

My favorite part of being a professor is not only getting to share my writing with others, but also getting to connect with the students and seeing their passion for Hogwarts in assignments. ~ Professor Rosenquist

Picking just one favorite is hard - I love working with the rest of the staff and also flexing my creative muscles. Getting to contribute to the quality and success of the site is also very rewarding! ~ Professor Mitchell

What is the best part of writing lessons and creating site content?

To me, the best part of writing lessons and creating site content is knowing that what I teach may come in handy in the future. More than knowledge that can only be used in the wizarding world, I strive to teach for life - this is one of the driving themes of my writing. ~ Professor Draekon

We all love the wizarding world (otherwise we wouldn't even be on the site!) and I think the best part of content creation is that we are able to expand on canon information and go way beyond that. We have the opportunity to explore realms and subject areas within the wizarding world that were barely mentioned in any of the stories or official content and I love being able to research interesting topics to bring them into the equation. ~ Professor Salvatrix

I love being able to express my creativity! Combining my knowledge of Harry Potter and my love for the arts and the occult is something truly amazing that I don't get to do anywhere else. I get to branch out on subjects that aren't fully developed or explained in canon and that's really special to me. ~ Professor Rosenquist

What first interested you in becoming a professor?

I've always loved teaching; one could potentially say this is my calling. When I heard about the existence of a website in which I could expand on personal theories and share them with other interested fans, I knew this was exactly my cup of tea. ~ Professor Draekon

It may come as a surprise, but I never intended to become a professor. I was really happy with the role I had on site already and was very much focused on that. However, one day, an application was released for a subject I knew a lot about outside of Harry Potter and I threw my name into the ring (because why not?) so I could share my passion and hopefully pass that on. Luckily for me, that worked and here I am! ~ Professor Salvatrix

I was definitely not interested in becoming a professor at first. I did not think I was good enough at writing and the responsibility felt like too much at the time. However, as I interacted with the former Transfiguration professor more and more and learned more about what the role actually looked like, I decided to give it a shot when she approached, asking me to join her as a co-professor. It was really in writing my sample lessons for the application that I actually started getting excited. I ended up enjoying that process way more than I had anticipated, staying up quite late to get them done! ~ Professor Mitchell

What is your favorite part of working with the professor team?

Knowing that I'm working with a group of people who have a similar passion to me and using that to fuel interesting discussions and being able to bounce ideas off one another. We all have the same aim- to make HiH the best it can be! ~ Professor Salvatrix

I love chatting with and getting to know everyone on the professor team. One thing we have in common is we all love the site and we're all Harry Potter nerds. When you clump a bunch of nerds together, it's going to be chaotic, and it is! ~ Professor Rosenquist

Singing funny songs at staff meetings. ~ Professor Plumb

What have you gotten out of working on HiH?

There's a lot I have gotten out of working on HiH, but the main thing I got was the ability to write my ideas in a more concise way. I am way too verbose, but HiH gave me the opportunity to try and explain myself in fewer words so I could be more easily understood. This is still a work in progress, however. ~ Professor Draekon

I've made some really close friends through HiH who I wouldn't trade the world for. I also now know

way

too much about real life alchemy that I probably wouldn't have known if I didn't spend thousands of hours researching it over the years I've been with the site. ~ Professor Rosenquist

Aside from the above things, I do like to teach students, as I have done throughout my life as a math professor in several Muggle universities as well as doing private tutoring. ~ Professor Plumb

What skills have you gained from being a professor on HiH that you've been able to apply in your offline life?

The main skill I have been able to gain is collaborative creation and management. Creating with people is something I used to find difficult, particularly because I did all tasks by myself when I was young; having to work with others was a rewarding experience that changed my worldview. Management, too, is something I could drastically improve with time, particularly given how vital managing one's PAs is important to keep the courses active. ~ Professor Draekon

My writing skills have improved greatly thanks to HiH. If I look at the essays I submitted as a First Year Student compared to my writing now, I wouldn't believe it was written by the same person! I reckon my research skills have also improved and that is always something useful offline. ~ Professor Salvatrix

I've taken quite a lot of soft skills away from HiH that I've been able to apply in real life as well! I've definitely improved in various areas of teamwork - working with folks with different ways of thinking, conflict resolution, and managing a team. This has helped me approach problems at work and in other projects I'm involved with off-site with a level head and clear vision. Additionally, I believe my creative writing skills have drastically improved with both the feedback provided by other professors during lesson reviews and just practice! ~ Professor Mitchell
Know what you need to know?
Are you interested in teaching the next generation of witches and wizards? Check out our open professor applications HERE!
Not sure if you're ready to teach yet, but still want to get involved? We also have open PA applications HERE!